Outside houses in rent for families and friends in the Vespucci Suites Hotel
The Hotel Vespucci Suites currently has two independent houses the resort, but within the grounds.

Both have two hundred square meters each and have the capacity to accommodate a family or group of friends. It is perfect for those looking to spend a pleasant stay in a residential and quiet, as Vitacura place.
Guests can enjoy the outdoor swimming pool, which is common to properties. you will also enjoy the beautiful and sunny terrace ideal we have breakfast, lunch and dinner.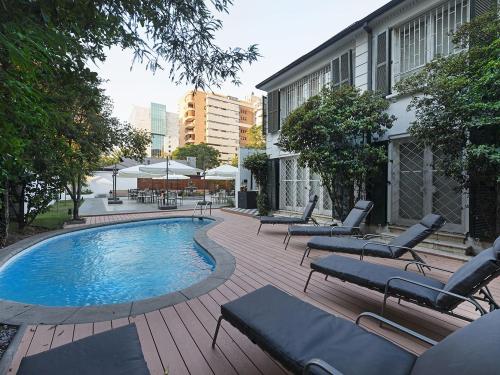 The house "Las Fresas" has a maximum capacity of 6 people and the house "Portales" for 8 people. The house called "Portales", is leased for families and friends who want to spend some time of leisure and comfort, at the Hotel Vespucci Suites.

On the second floor there are two wings. One that faces the street, which has two rooms that have two single beds each. The other wing is oriented towards the interior, in it there is a room with private bathroom and another room with two single beds. The second floor also has a separate bathroom.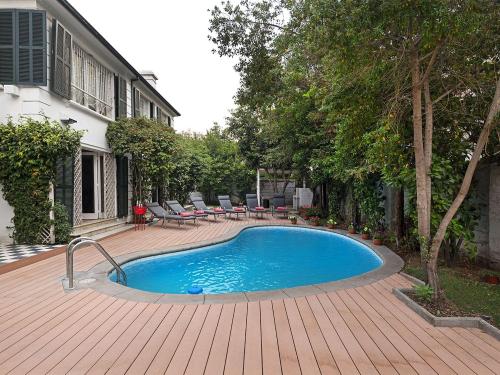 The value for Portales and Las Fresas houses applies for a maximum of 4 people and is US $ 350. For each additional person, a value per night of US $ 50 must be The services included in both houses are : maid service, breakfast buffet (served in our Winter Garden), wifi cable, parking, use of pool, gym and spa.
Important: The value in pesos is subject to change, depending on the exchange rate applied at the time of requesting the reservation.
To book, please contact Hotel Vespucci Suites, through our website
>
www.vespuccisuites.cl
or send us an email to
contacto @ vespuccisuites.cl
This e-mail address is being protected from spambots. You need JavaScript enabled to view it.
You can call us directly at the number (56-2) 27506510 or (56-2) 27506500. We wait for you with our personalized attention and with beautiful and comfortable rooms, which will give you a better quality of life and pleasure during your stay in Santiago de Chile .